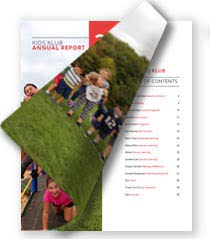 Check out our Report on 2017 by viewing the attached PDF.
Thank you for making 2017 yet another remarkable year for Kids Klub! This year marked 30 years of service for the organization. Our dedicated staff has done an incredible job at expanding our outreach while strengthening our programs and services.
Kids Klub is stronger than ever due to our continually expanding community who comes together to donate time, resources, and talent in support of our important mission.
This year has been a great opportunity for us to focus our attention on what makes Kids Klub stand apart, such as quality education and diverse enrichment programs.
Thank you for wholeheartedly supporting our students and our program. We are looking forward to much more in 2018!

Alicia Gloria
Executive Director
Read more by viewing our 2017 Annual Report.