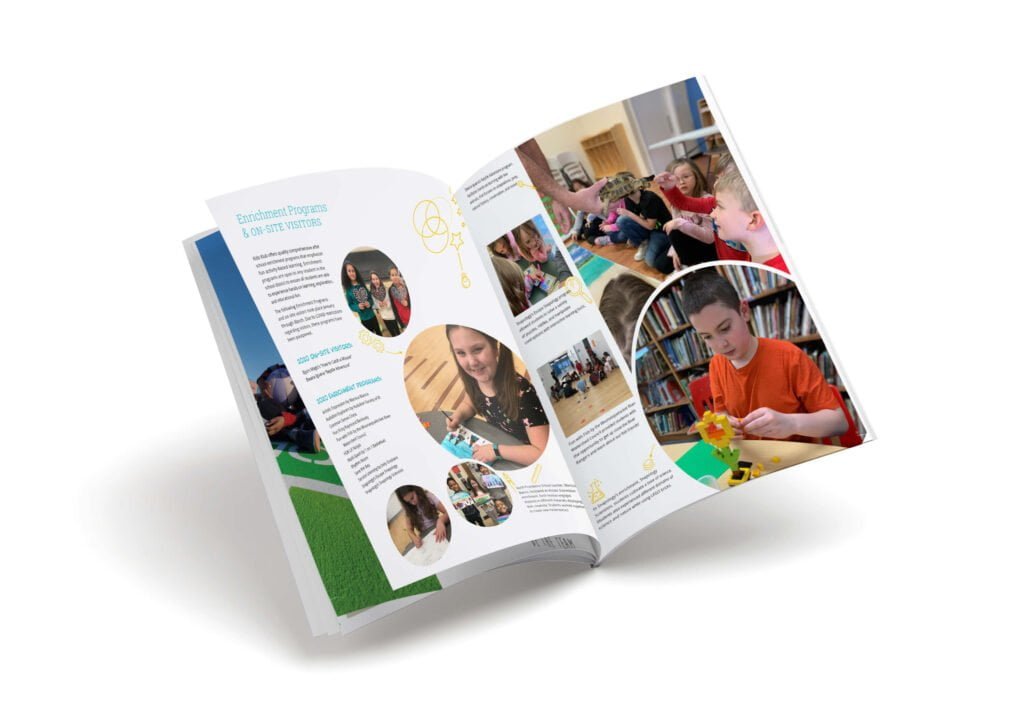 Check out our 2020 Annual Report by viewing the PDF.
The year 2020 has been full of change, pauses, and introspection. It was a hard year for everyone – for our families, children, and staff. We, along with everyone else, had to quickly learn to adapt to the "new normal" during the COVID-19 pandemic. However, amongst this backdrop, we still had much to think positively on this year!
At the start of the year, we filmed a new training video and training series for our staff. This video takes new and experienced teachers through a day at a Kids Klub program, detailing expectations, routines, frequently asked questions, and more. A huge thank you to the Stephen Olney Elementary School for allowing us to use their facility and to the North Providence Kids Klub students and staff who starred in our video! We could not be more grateful to everyone who helped us make it happen.
This year we were honored to be chosen as the recipient of a $5,000 community grant from Walmart! A huge thank you to the Warwick Walmart, located on Bald Hill Rd.
We were also proud to be able to give back to our community more than ever this year. At the end of the year we made donations to local food pantries on behalf of the schools who support us. Donations were made to:
North Providence: Moms of Marieville
North Smithfield: North Smithfield Residents Food Pantry
Woonsocket: All Saints Church Pantry
Our Home Office staff also adopted a family this holiday season by purchasing gifts for two students in North Providence through Moms of Marieville. Supporting our community is important to Kids Klub. The annual Klub House Rock! fundraiser saw some changes this year as well. Originally scheduled for April, this year we held a calendar raffle and virtual silent auction. Our team worked hard to make it happen and I am so appreciative for our community for supporting us. Largely due to our local sponsors, we raised more than ever for the Kids Klub Fund!
Providing a safe, secure, educational environment continues to be of utmost importance to Kids Klub. Keep reading for more about how Kids Klub adapted to changes amidst the pandemic and for our latest updates. We are grateful to everyone who supported us this year in order to help the students that we care for every day. We would not be here without your support.
I look forward to a great year ahead!

Alicia Gloria
Executive Director
Read more by viewing our 2020 Kids Klub Annual Report.