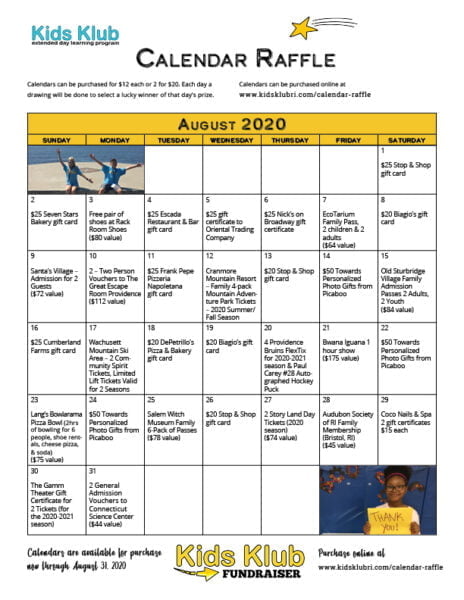 Join us in supporting students in Kids Klub by purchasing Calendar Raffles for $12 each or 2 for $20. There is no limit on how many calendars you can purchase. Each calendar purchased gives you one entry into the raffle drawing and increases your odds of winning a prize! Thank you to the generous businesses and individuals who donated prizes! Each day in August, a drawing will be done to select a lucky winner of that day's prize. 31 prizes – 31 chances to win!
Purchase calendars online:
Questions? Email info@kidsklubri.com for assistance or visit our PayPal page directly to make a payment. At this time we are only taking online payments for the safety of our staff, thank you for your understanding.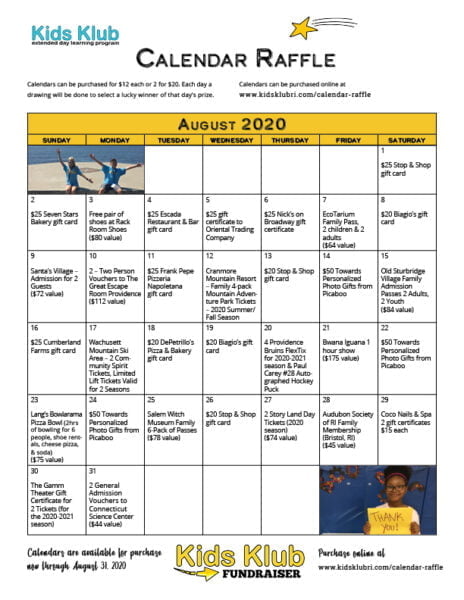 Winners will be announced on our Facebook page, this contest page, and via email. Follow us for updates!
Contest details: Download PDF digital copy of calendar to see contest prizes available. Payment determines contest entry- for a $12 payment, entrant will receive 1 calendar/contest entry; for every $20 payment, entrant will receive 2 calendar/contest entries. All names will be placed in a random generator and winners will be chosen daily. Follow www.facebook.com/KidsKlubRI to see announcements. All winning names will be posted on kidsklubri.com/calendar-raffle. Winners have 30 days to respond or the prize will be forfeit. Calendars may be purchased any time until August 31, 2020, the last day of the contest. Multiple calendars may be purchased for increased chances to win. The odds of winning will depend upon the total number of eligible entries received during the contest period. 
Note: all prizes were donated prior to COVID-19, please check with the individual business to determine current restrictions on use. Some prizes have expiration dates (mid-Sept. or later).
Download calendar to see prizes
Winning calendar drawings:
| | | | |
| --- | --- | --- | --- |
| August | 1 | $25 Stop & Shop gift card | Jaime Pereira |
| August | 2 | $25 Seven Stars Bakery gift card | Jeffrey Cascione |
| August | 3 | Free pair of shoes at Rack Room Shoes ($80 value) | Jennifer Figueroa |
| August | 4 | $25 Escada Restaurant & Bar gift card | Jaime Pereira |
| August | 5 | $25 gift certificate to Oriental Trading Company | Sharon Barr |
| August | 6 | $25 Nick's on Broadway gift certificate | Heather Camara |
| August | 7 | EcoTarium Family Pass, 2 children & 2 adults ($64 value) | Ron Smith |
| August | 8 | $20 Biagio's gift card | Tyler Bickford |
| August | 9 | Santa's Village – Admission for 2 Guests ($72 value) | Beth Stacki |
| August | 10 | 2 – Two Person Vouchers to The Great Escape Room Providence ($112 value) | Rebecca Compton |
| August | 11 | $25 Frank Pepe Pizzeria Napoletana gift card | Stefanie Alpaio |
| August | 12 | Cranmore Mountain Resort – Family 4-pack Mountain Adventure Park Tickets – 2020 Summer/ Fall Season | Sarah Gloria |
| August | 13 | $20 Stop & Shop gift card | Deborah Hanely |
| August | 14 | $50 Towards Personalized Photo Gifts from Picaboo | Jennifer Carter |
| August | 15 | Old Sturbridge Village Family Admission Passes 2 Adults, 2 Youth ($84 value) | Justin Bellucci |
| August | 16 | $25 Cumberland Farms gift card | Judy Lowe |
| August | 17 | Wachusett Mountain Ski Area – 2 Community Spirit Tickets, Limited Lift Tickets Valid for 2 Seasons | Stacey Lopes |
| August | 18 | $20 DePetrillo's Pizza & Bakery gift card | Don Poli |
| August | 19 | $20 Biagio's gift card | Mary Billington |
| August | 20 | 4 Providence Bruins FlexTix for 2020-2021 season & Paul Carey #28 Autographed Hockey Puck | Lorraine Peloquin |
| August | 21 | Bwana Iguana 1 hour show ($175 value) | Pam Speid |
| August | 22 | $50 Towards Personalized Photo Gifts from Picaboo | Tracy Cheney |
| August | 23 | Lang's Bowlarama Pizza Bowl (2hrs of bowling for 6 people, shoe rentals, cheese pizza, & soda) ($75 value) | Tasha Shepard |
| August | 24 | $50 Towards Personalized Photo Gifts from Picaboo | Emmalee Phetteplace |
| August | 25 | Salem Witch Museum Family 6-Pack of Passes ($78 value) | Lorraine Suzman |
| August | 26 | $20 Stop & Shop gift card | Eleanor Carrara |
| August | 27 | 2 Story Land Day Tickets (2020 season) ($74 value) | Jay Frechette |
| August | 28 | Audubon Society of RI Family Membership (Bristol, RI) ($45 value) | Tracey Smith |
| August | 29 | Coco Nails & Spa 2 gift certificates $15 each | Christina Gloria |
| August | 30 | The Gamm Theater Gift Certificate for 2 Tickets (for the 2020-2021 season) | Larry Lopes |
| August | 31 | 2 General Admission Vouchers to Connecticut Science Center ($44 value) | Danielle Mutter |