Congratulations to our Summer 2023 Employee of the Season:
Alleigha Desousa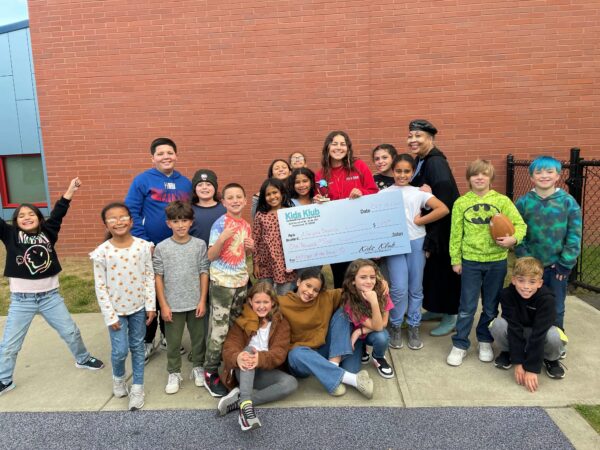 Shout out to Alleigha Desousa– our Employee of the Season!
Alleigha has been with the organization since April 2022!  She holds the position of Curriculum Administrator for Kids Klub at Stephen Onley.
Congratulations Alleigha!

Some feedback from coworkers includes:
"Alleigha is the true definition of a team player! She is dedicated, determined, always with a positive mindset, and lives out the action statement of – "learn, teach, repeat. be the team. deliver excellence." Alleigha started at Kids Klub as a Teacher's Aide, and then over a short period of time was promoted to Assistant Admin, and now currently Curriculum Admin at Kids Klub Stephen Olney. During the summer months specifically, I had the pleasure of working with her daily at the KK North Providence Summer Camp. She is ALWAYS – on time, willing to work more hours if needed, and ready to assist in anything the day brings, with a smile on her face. Alleigha does an amazing job facilitating curriculum with the kids, helping to prepare for field trips or visitors, daily tasks around the site, and more. She works well with her team, the children, and parents alike. Alleigha is a true "go-getter" and more than deserving of this opportunity!"
"Alleigha has been working with Kids Klub since she was a Senior in High School. Since then, she has been promoted multiple times and is now the Curriculum Admin. at Kids Klub Stephen Olney. Alleigha is dedicated to everything she does within the organization and has can do attitude."
Shout out to all the Nominees!
Ariana Song DDC Smithfield
"Ariana joined our team in March 2023. Ariana is a great team player. She enjoys going to any room in the building and is fully engaged in the classroom and with the children. Ariana is an incredible asset to our center."
Lauren Wholey Kids Klub Bernon
"Lauren goes above and beyond not only for the company for her children as well. She is dedicated to her job and has a true passion for taking care of the children at her site"
Joe Capaldi Kids Klub Stephen Onley
"Joe was incredible over the summer! He is always helping out, driving the van, picking up shifts and keeping the daily schedule moving. The kids absolutely loved playing outside or in the gym and Mr. Joe is the common reason why!
Joe is a very unselfish person and a hard worker who never calls out. He is always there when he's needed and thinks highly of his coworkers. It just wouldn't be the same without him!"
"Having Mr. Joe with us for the first week has been such a joy and such a blast. Not only does he interact with the kids very well, but he is a very easy staff to get along with. As I am still newer to my position and Joe has also been here for 10 years, having him and his experience here at Greystone has just been so wonderful and so helpful"
Beth Zummo, Home Office/HR
"Beth deserves a shout out as nominee for Employee of the Season as she has made a huge impact in our recruitment model since joining our team earlier this year.
If you are within earshot of Beth during working hours, you will hear her engaging with candidates via phone calls and Zoom interviews non-stop.
She displays a professional, friendly disposition with each encounter selling our organization well while educating the candidate of our robust benefits and perks package.
She is changing our front-facing presence in the hiring efforts within the industry. She should be thanked company-wide"
Hailey L'Heureux DDC Cumberland
DDC Cumberland went through a lot this summer and new kiddos joining our center, etc. Hailey was a huge support to DDC Cumberland and helped all of us through some tough situations and let us know we always had someone to lean on."
Alisha Heistand Kids Klub Stephen Onley
"Alisha is someone who I work closely with everyday. She never fails to make the children's day fun filled with funny jokes and prizes. She has great creativity that all the children enjoy. Along with great energy when playing with the children in sport activities. She never fails to be flexible with everyone's ideas and works well under pressure!"
Stephen Imondi DDC East Greenwich
"Stephen is willing to help out anywhere as well as always willing to volunteer for projects such as LEARNers."
Allysa Trainor DDC East Greenwich
"Allyssa deserves to be employee of the month because she always shows up to where she is needed. Not only is she a great a teacher that listens, respects, encourages, and supports her students but she acts the same to her fellow coworkers. Ever since I was hired Alyssa was quick to welcome me in to Dr Day Care. Whenever I needed guidance she always knew what to do and was a great example of how a teacher should be!"
Lynn Simas DDC East Greenwich
"Miss Lynn, is our infant teacher at East Greenwich! Miss Lynn cares so much for the babies learning, development, and experience while in our care. Miss Lynn creates many sensory experiences for the children and enjoys watching them experience it on their own terms. There is always something new to explore in her room! This week there was some colorful bubble wrap taped to the floor for the smallest babies to touch and explore during tummy time. She truly enjoys her work here, and does her best to help each individual child thrive and grow."
Pablo Santos DDC Pawtucket
"Pablo is a breath of fresh air and his smile lights up the whole room. He is easy-going and ALWAYS engaged with the children, whether that be in a small group or in a one-on-one scenario. He is caring, has a great sense of humor and while he takes his job seriously, seems to take life with a grain of salt. He has proven himself to be a very successful TIS, and therefore was promoted to Behavior Specialist. He was requested to assist in a toddler room to provide some targeted support to one individual child and was very successful in doing so. He has also accepted, just recently, the additional responsibility of becoming a van driver to help out at his site. I just can't say enough fantastic things about Pablo!"
Past Winners of Employee of the Season Include:
Summer 2022 Tania Rodriguez
Fall 2022 Emily Francheschi
Winter 2022 Miranda Rivera
Spring 2023 Jenn Proulx
Summer 2023 Alleigha DeSousa
Nominate your coworkers
www.drdaycare.com/employee-of-the-season-nomination

The Employee of the Season will receive a check for $100, a $50 coupon code for a special "Employee of the Season" uniform item of their choice, and their name on a plaque at the Home Office!
Nominations & Awards are given every year for:
·     Winter (December, January, February) – nominations collected in March
·     Spring (March, April, May) – nominations collected in June
·     Summer (June, July, August) – nominations collected in September
·     Fall (September, October, November) – nominations collected in December