NORTH PROVIDENCE – Thanks to a $25,000 grant, students at Stephen Olney School are now benefiting from the Hasbro Summer Learning Initiative.

This year marks the fifth year of a partnership between United Way of Rhode Island and Hasbro designed to keep students engaged in learning during the summer and to avoid summer learning loss.

The six-week program for 30 students in North Providence this summer is being funded through a $25,000 Hasbro Summer Learning Initiative grant and is being facilitated by the Kids Klub, said Supt. Melinda Smith.

"It's awesome," she said. "The kids are practicing math and reading within service learning projects and don't even realize that's what they're doing."

The only cost to the local district is with the two teachers who are instructing, she said, money that is coming from the schools' profit share from programs the Kids Klub runs during the school year.

Last Wednesday, the students in the program participated in a "Recycled Racer Rally." As part of the students' engineering unit, they worked on designing a recycled racer car. They then tested their racers on the class track to see how well they did in meeting the goals they decided on, like whether they were going more for speed or distance.

Students first presented their cars, telling everyone what they did in designing them. Once the cars were tested, other students had a chance to give positive and constructive feedback. Students also used their writing skills and made persuasive arguments as to why a race car driver should buy their cars.

When not engaged in learning during the summer, students lose an average of two months of math and literacy skills, according to a news release. For students from low-income households, the learning loss is even more severe.

For students who participated in the summer initiative in 2014, gains were experienced in both literacy and math based on pre- and post-participation testing. An independent evaluation of students showed that, on average, students achieved 35 percent gains in literacy skills and 47 percent gains in math, making them better prepared to learn new curriculum when school reconvenes in September, according to staff.

The initiative is not summer school and it is not summer camp. It fits in the middle by providing students with exciting, hands-on experiential learning curriculum that promotes a love of learning.

According to educators, less than 40 percent of Rhode Island students are enrolled in summer learning programs. According to a survey last summer, four out of five parents support public funding for summer learning programs.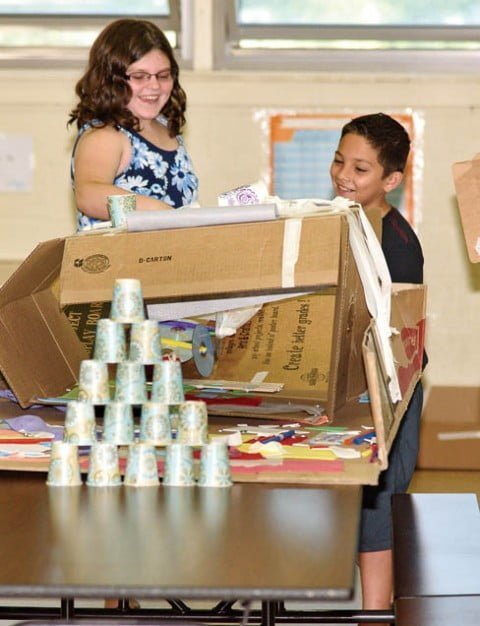 Haylee Riccitelli and Ivan Ramos, both 9, launch their racer down the slide, hoping to knock over the paper cups at the bottom of the track.