The school year will look a little different this year, but Kids Klub will still be providing quality learning programs. All children must have a completed Enrollment Packet submitted prior to starting at Kids Klub. Procedures will vary for each school district. Please read below for more information.
Space is extremely limited, sign up today.
Even if your child attended in the past, we must receive updated enrollment information every year. To ensure that we have the most up-to-date information, please complete an Enrollment Packet for your child. Returning students only need to submit a Registration Renewal, new students should complete a full Packet.
If you would like to reserve a spot for your child to attend, please fill out an enrollment packet. After we receive your packet, you will receive a confirmation e-mail.


Your child's spot is not guaranteed until you receive a confirmation email.
We appreciate your patience and support as we prepare for the start of a new school year! We look forward to seeing everyone again for another great school year! Wear your mask and have fun!
North Smithfield school schedule:
Monday ~ Full Distance Learning for all students
Tuesday & Wednesday ~ Students with last names A – L will be "in person"
Thursday & Friday ~ Students with last names M – Z will be "in person"
Please note: Students can only attend Kids Klub on days that they are "in person" at school.
Students cannot attend Kids Klub on their distance learning days.
See the North Smithfield page for more information on the After School Program.
North Providence school schedule:
All students are attending full days in person.
Kids Klub is providing Before & After School Programs for students at the following schools:
Please note: This year we are unable to provide breakfast at Kids Klub. Students may choose to eat breakfast in their classroom, at your child's school's breakfast fee.
Woonsocket school schedule:
Kids Klub will remain closed as Woonsocket transitions through their reopening plan.
Frequently asked questions
I received a confirmation email, what do I need to do next?
Nothing! Your child is all set to begin Kids Klub.
I did not receive a confirmation email, how do I ensure my child is signed up for Kids Klub?
Contact us to check on your child's enrollment status.
Can my child attend Kids Klub for a full day program, during distance learning days?
Unfortunately, no. Kids Klub is only available for before/after (varies by school district) programs and is not available for full day distance learning days.
Do I need to sign up?
Your spot will not be confirmed until we receive your child's enrollment packet and you receive a confirmation e-mail.
Will Kids Klub provide busing?
Kids Klub will provide busing from Centerdale Elementary School and Whelan Elementary School. For other schools that require busing, we are still working with the school district on our plan. Contact us for more information.
Does my child need to wear a face mask?
Yes. All adults and students must wear masks.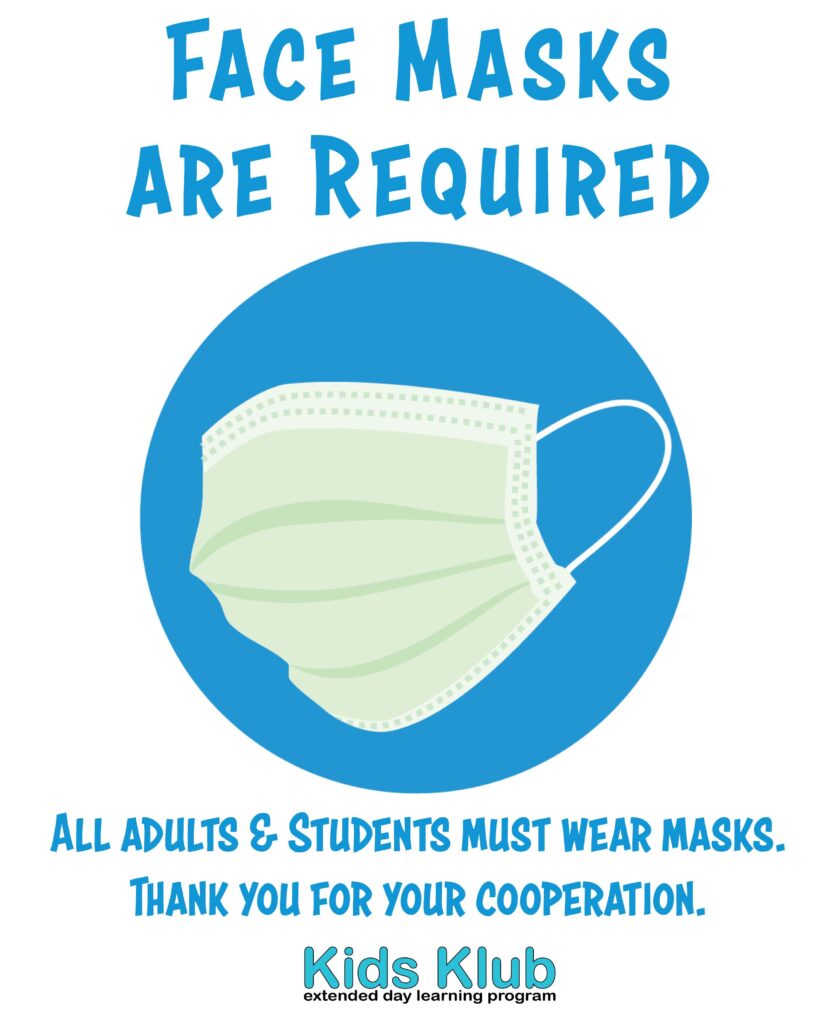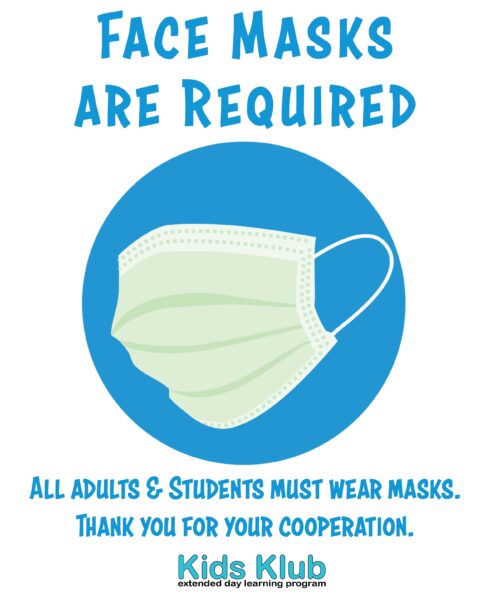 Some changes you may notice when we reopen:
Handwashing and sanitizing. Everyone who enters the building will need to wash hands, and we'll continue to incorporate handwashing into our curriculum.
Face masks. All adults and students must wear masks.
Increased cleaning & disinfecting. Staff will continue to clean throughout the day. Toys, playground equipment, and other high-touch surfaces will be regularly disinfected and rotated throughout the day. We will pause the use of sensory tables, large pillows or stuffed animals, and other materials that are difficult to clean.
Stay home if sick. Children, employees and visitors with a 100-degree Fahrenheit or higher temperature will not be allowed to attend child care or work.  Children and employees will need to be fever and symptom free for 24 hours without a fever reducing medicine.
Sick space. Centers will have a dedicated space where teachers can care for sick children while being separated from others until child is picked up.
No visitors in the building. No visitors will be allowed in the school building to reduce spread of virus.
Field trips and events. All in-person program assemblies, special activities, field trips and program wide events will be canceled or postponed.
Updated policies. Policies and procedures were updated to reflect these changes. Please see center Administrator for details.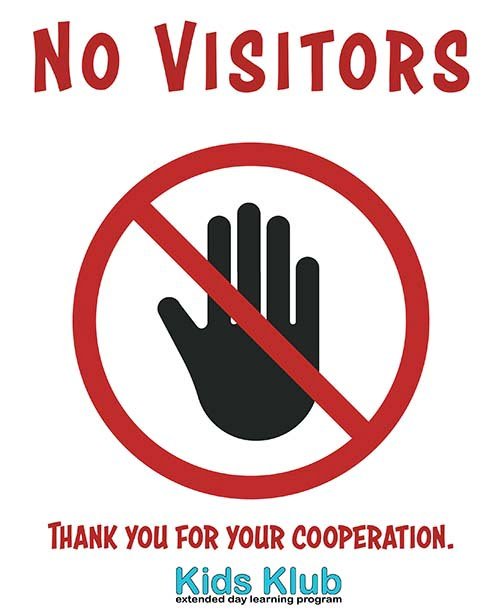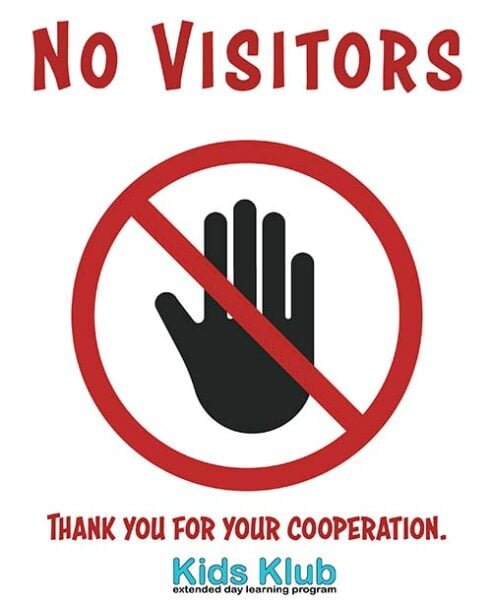 As we reopen our extended day learning programs, we are putting safety first to protect our families and staff.  All teachers and staff will go through training on health and safety practices.
Please note that our health and safety procedures change as the reopening guidance changes. If you have a question or would like clarification, please contact an Administrator or email us at
info@kidsklubri.com
. Thank you for your understanding.