NORTH PROVIDENCE – Students in North Providence may be on vacation, but 60 children from town make up a hands-on, interactive program at Stephen Olney Elementary School where instructors are aiming to not only prevent a summer slide in learning, but also strengthen students' skills in math, science, writing, reading and leadership.
The North Providence School Department has teamed up with Kids Klub and the Hasbro Summer Learning Initiative through United Way to host the tuition-free summer learning program in town. Last year, only 25 students were enrolled in the program.
Joseph Morra of United Way explained that while there's a framework in place for the North Providence teachers to instruct, "the youth are owning the education and the teaching of themselves, too."
It's not a typical school structure, where students sit in their seats for a majority of the day, Morra said. Instead, he said, the pilot program "takes the idea of summer school, and turns it on its head." Four North Providence teachers instruct the program with the assistance of Kids Klub staff, and are funded through the Hasbro and United Way initiative.
Children from all six North Providence elementary schools learn in 40-minute sessions and take 20 minutes for team building breaks, Morra said, and cycle from classroom to classroom throughout the day.
The program, which lasts for six weeks and is in session Monday through Friday from 9 a.m. to 2:45 p.m., is set up so rising 4th-, 5th- and 6th-grade students can work together to organize service learning projects, work on team building activities and continue to learn academic subjects through August. Students complete a pre-test before the program begins and finish the program with a post-exam so their progress can be tracked.
Alicia Gloria, executive director of Kids Klub in North Providence, explained that the age group was chosen after Supt. Melinda Smith observed an academic skills gap with students entering 6th grade in the district, where children were falling behind in reading and math.
"Two-thirds of the achievement gap is connected to the fact of inequality, or unequal access to summer learning programs," Morra explained.
Gloria said that by tracking student identification numbers this upcoming school year, program organizers and the school department will get an overview of how the students are doing in class and where the summer program can improve in the future. It's not a program that ends after six weeks, she said, nor is it an initiative that starts in the summertime.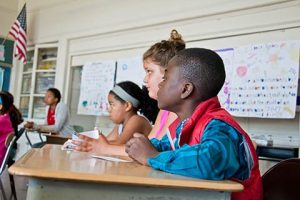 Morra said the North Providence School Department and Kids Klub plan for six months to develop a curriculum for the initiative, and Gloria said program organizers will stay in contact with teachers throughout the academic year.
Space is the theme of the program this year, where students designed and launched small rockets on the school grounds, and with both national and local elections going on, the students are currently working on an election of their own.
In groups, the children designed their own "martian candidate" to represent a "martian colony." Through these activities, the students brainstormed what it takes to be a good leader, what qualities they look for in a candidate and what the North Providence community needs. The project, Gloria explained, teaches the children how to be leaders in the community, address problems in the area and carry out projects to counter those issues.
Collectively, the students decided to orchestrate a service learning project to benefit the North Providence Animal Shelter. They're taking donations, toys and blankets for the animals at the center, and from a lemonade sale alone, $160 was raised by the children. The program is planning a walk-a-thon in August to benefit the shelter.
"It's just really exciting for a young person to be able to see themselves as part of the community and try to make a difference in the community via their service learning," Morra said.
"What we're essentially doing is building better citizens as a result of this program," he said.
The 4th-, 5th- and 6th-grade students also crafted questions to ask local leaders, spoke with Mayor Charles Lombardi and his mayoral opponent Kristen Catanzaro when the two visited the school and participated in a debate session, where the students were split up into groups and had to make a case for what their "martian candidate" stood for and why their candidate should be elected as leader.
The summer learning initiative allows local officials to visit the children, and the students are able to attend weekly field trips to places like museums, the town's pool and the North Providence Library.
"It's not worksheets, and it's not teachers delivering every single fact," Morra said.
Instead, the Hasbro summer learning initiative is "delivered in hands-on, experimental ways that have true, real-world applications," he said.